Farel Impex increased Sales Force Efficiency with HERMES SFA System
Farel Impex, one of Transylvania's main beverage and food distributors, implemented Transart's integrated and optimized business management software system for FMCG distribution. Covering over 6,000 point of sale in 4 counties, with 8 warehouses and more than 50 Pre-Sales agents, Farel Impex implemented the B-ORG ERP system for all stock, inventory and billing operations at headquarters and warehouses and HERMES for Android (Pre-Sales, Targets) for field sales agents equipped with Samsung tablets and Datecs DPP 250 mobile printers.
"As a result of implementing the Transart system, I believe that the sales team has benefited the most. We have greatly automated the work of our agents, including billing and applying of discounts. In addition, agents are now able to see their individual sales targets as well as how their own sales (% vs Target) evolve in HERMES after each visit. The impact is that each agent can adjust their orders much better, and if something did not go well during a visit to a customer, they can easily adapt the speech for the next visit."
– said Mr. Marius ȘĂULEAN, Sales Manager - Farel Impex.


BENEFITS
The field sales force is now better equipped with both complete customer relationship history of promotions and discounts that can be applied to each individual customer or the level at which the agent has reached the individual sales target;
The customer sales process has been fully automated and the time spent on collecting money during the customer visit has been significantly shortened, by automatically generating with HERMES, receipts and listings on the mobile printer;
It increased the effectiveness of Farel Impex staff by facilitating work for: billing operators, sales agents, managers and drivers;
Daily activities are taking advantage of the technological benefits embedded in Transart systems, with many automated operations like sales, pre-sales and billing etc.;
Inventory is more accurate and the preparation of supply orders is much faster;
Key people were doing a lot of work. They have been relieved of large volumes of manual work (Excel reports) and now they can focus on saving time on issues related to business development, improving customer and supplier relationships, and on matters related to the maximum exploitation of the sales potential of each store.
Improving relationship with major vendors - automated reporting, returnable packaging control, cargo receipts, supply based orders optimized;
Fluidization of freight delivery from warehouses: shortening the preparation time and loading of cargo in the truck by over 40%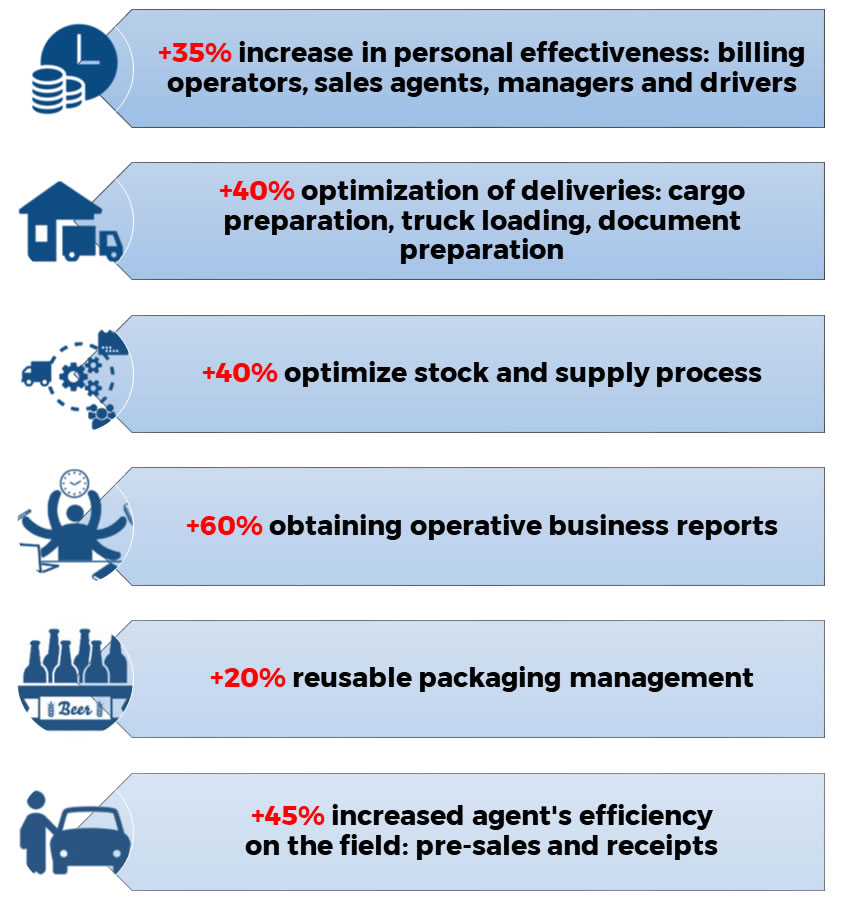 "I have always trusted that the choice of Transart as a provider for the IT system was the right choice. I had a supplier's recommendation, I spoke with partners who had used the Transart system in other distribution companies for a long time, and they all assured me that the system is ok and that it does the job properly. Later, I personally participated in all the training sessions, and noticed people's feedback and I realized that everything would be in order before the live start." --said also Mr Marius ŞĂULEAN, SFA Software Implementation Coordinator.
Transart Solutions
I want to be contacted
Talk to you soon